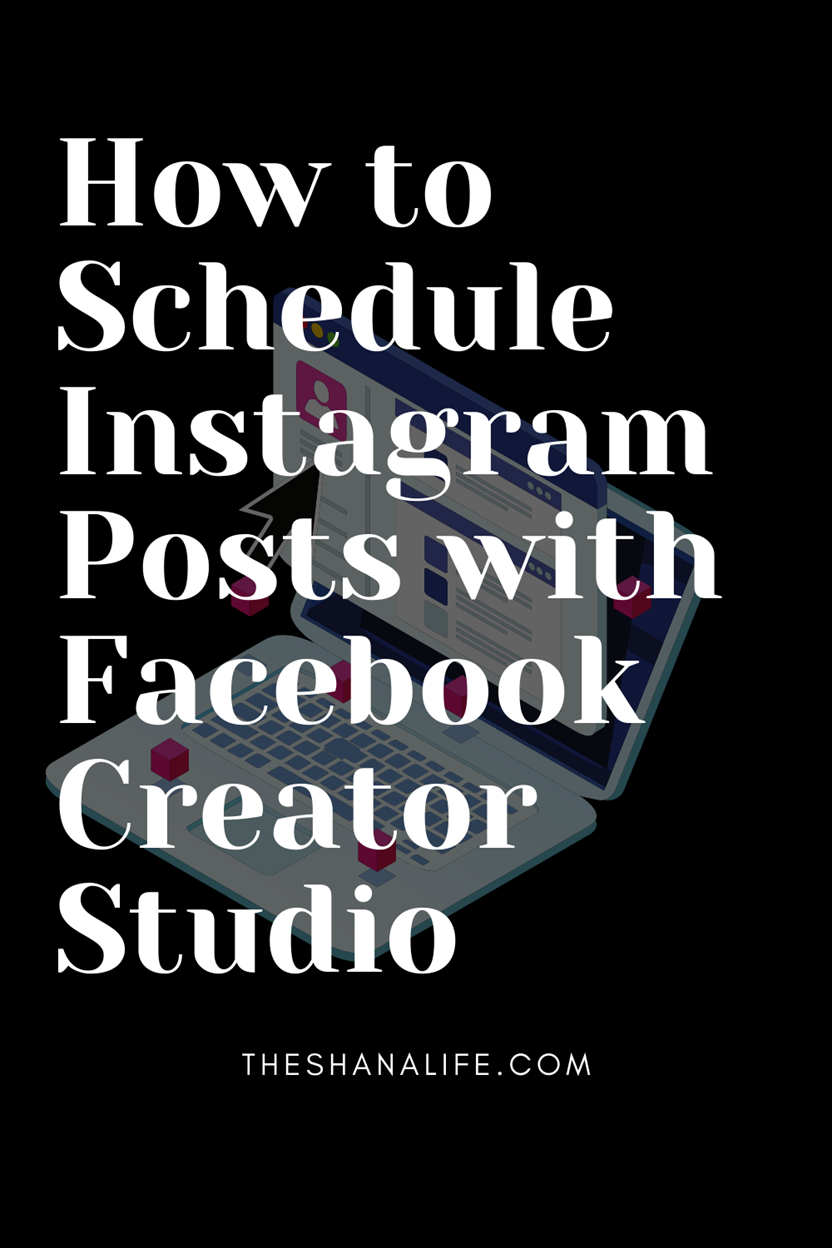 This post contains affiliate links to products. We may receive a commission for purchases made through these links.
If you are planning your content out, one of the definite things people like to do is schedule their Instagram posts. I have scheduled posts in here and there. I schedule posts to make sure they align with blog posts for the day or a theme that I may have decided for the week.

There are a lot of third party apps that do this, but Facebook Creator Studio can be used to schedule posts without going the third party route. Since Facebook owns Instagram, you should be using this and it's free. I know y'all like free things.

How to Schedule Instagram Posts

Log into Facebook's Creator Studio to use the Instagram scheduler. You should be able to see all pages if you have them connected. If you haven't connected your IG account, do that now. Also, please remember you need to have a Business or Creator account to use Creator Studio.


There will be an option to post on Instagram within Creator studio. The Creator Post button will be in the top-left corner of your screen. Click that button to get started on your first post.




Select the Instagram feed option and select the account you want to post to.




Upload the photo(s)/videos that you have chosen. You can upload to 10.




Write the caption for the photo.




Choose your location. I recommend using it when you're out and about. You don't have to when you are home.




Add hashtags and accounts that you want to tag. You get 30 hashtags and 30 tagged accounts in your IG posts. It will count for you how many you have already used.  




You can either click Publish if you want it go out right away or you can schedule the post and select a time/date that you want it to automatically post.



How To Schedule IGTV Posts

If you wanted to posts IGTV posts inside of Creator Studio, the steps are the same except you have to choose a cover image as well. You can either use thumbnails from the video or "Upload Custom Image" from the computer. I've had trouble with doing a custom image, so I have just took the route of using thumbnails. I will figure out the custom image issue because I would rather do that. Those images you can pin to Pinterest which can direct users back to your IGTV. That could result in more followers.
You have the option to display the first minute of your video on your IG feed. You can uncheck if you don't want to have that preview happen. But it is a good idea to use it if your followers don't even know you are dropping videos on them.

Fun fact: your IGTV description can include any URL. If you don't have the 10k followers for Swipe Up feature in your stories, this is a workaround to include clickable links on Instagram. If you want more information on how to do that, let me know in the comments.

As a caveat, you cannot schedule IG stories here. I really hope that they bring this option. There are some other sites that do offer that option with a cost. There is also a Creator Studio app, but it is does not include scheduling with Instagram. I hope they include that in the future.

Again, the most important thing about using Facebook Creator Studio is that it is Facebook created. At any point third party apps can be shut down or compromised. And remember it is free. You aren't spending a dime and that's the best part.

Look for a step by step video of how to as well. I feel like someone needs and I want to make life easier.
Now go forth and prosper. Let me know if this has helped you in the comments.